I'm moving this tutorial over here to the new forum and updating a few things because of a few simple reasons. Even though this guide was made back in 2012, I got enough positive feedback and messages from people who were unsure of how to properly do offers so I've decided to move it here to keep the ball rolling. Heck even the GMs told me this helped them with understanding offers. I'm not dead, I just play a whole lot less of GA2(Unless I'm with old friends). This guide may be focused around SR offers but this is how you complete offers in general, the whole big piece of the pie, so do this with all of your offers. Reporting process varies with provider to provider but for the most part its basically the same.
-WARNING-
This thread is long, k
If you haven't done anything wrong and you don't have offers its because your offer wall is glitched, mail super rewards
here:
offer-points@srpoints.com
and tell them that your offer wall is glitched. Their going to ask you for your account ID number, but I'm pretty sure you don't know it, so just ask them to get it for you and they should get it from CyberStep. I know that this works because a while back my offer wall was glitched and after i mailed super rewards one of their representatives unglitched it for me.
If this helps at all i guess you could just copy what I said or re-word it to what you prefer to get your wall unglitched.
Image
If they do not reply and get back to you within a few days there is nothing i can do about it, i got my response from them in a few hours and had my wall fixed 2 days later.
______________________________________________________________________________________________________________________________________
Tutorial Starts Here
______________________________________________________________________________________________________________________________________
People always ask me how I do free offers or could I do the free offers for them. There's nothing difficult about doing free offers so I will finally teach you how to do free offers with Super Rewards(Works for other providers as well.)
Things you will need for free Crescents.
-Patience
if you don't have that then you might as well not do offers, and you have to read what must be done, complete what is asked of you to do, and wait. If it doesn't work? report it, move on to the next offer, no big deal.
-Dedication
That explains it self for the most part.
LET US BEGIN MY LITTLE DUMPLINGS
Super Rewards in my opinion, has to be the best out of all the free crescent offer providers because they have awarded me with more free crescents then any of the other provider since i started playing Getamped 2 .If you don't believe me just look at some off my offers from past dates.
(These are the offers that i sent to customer support.)
(These are the offers that awarded on there own.)
The type of offers i try to look for are the "No purchase required to receive ____ Crescents". These are the offers that ask you to do really simple things, For Example:
"Crescents awarded upon valid form submission" So all this means is that you just have to simply finish the form, which is basically like signing up to a website, and then you're done. For me I never do more on an offer then what is asked, because its not like their going to pay you extra for doing it so i don't really see the point in doing more than what is needed.
Now you must always remember, after you finish a offer you must take a picture of your screen, in other words...
YOU. MUST. ALWAYS. HAVE. PROOF.

If you don't plan on taking a screen shot, then don't bother going to customer support, because they will not award you. Unless their asking for your email, in which case, they will.
If you don't know how to take a screen shot then here's how you do it. (time to be lazy..)
Method1
http://answers.yahoo.com/question/index
... 824AAhAY3k
Method 2
You could use a program called Snipping Tool. It lets you take any amount of your screen that you want, I use it everyday. I don't have a download to it so don't ask me for it. I think it comes with windows 7 and windows vista(im not 100% positive on this, so....yea.) it came with my Widows 7. So if you don't got it just go with the first method.
After you have completed the offer and taken a screen shot, what you want to do is pull up your offers wall, it will show all your pending and completed offers.
(This offer is pending)
(This offer is awarded)
Now you may be all excited saying things like "Wow, this is so easy, I'm never buying Crescents ever again" then when you go back and check your rewards wall, you get this shoved in your face.

"Status - VIEWED"
Now don't get discouraged and give up, this is a part of doing free offers and you will have to learn to deal with it. This is where taking screen shots (Proof) Comes in handy. You may know that you completed the offer and you did what was asked of you to do when doing the offer, but super rewards doesn't know that. The place that your heading for next is Customer Support so that you may be awarded the crescents that are owed to you.
After you click the blue question mark
you will be taken to a white and gray page that at the top will show this.
Proceed to scroll down and click a link that shows as followed:
Continue to the offer inquiry page »
All other offers will look silmilar to this:
______________________________________________________________________________________________________________________________________
Offer:
InsureSquare - Health
Get FREE Health Insurance Quotes!
Requirements:
Crescents awarded upon valid form submission. Offer reports on a 15 minute delay
Other Info:
Time Initiated: 1 hour ago
Crescents: 234
Click ID: 811130694
Email (Required)
[_______________________]
(the email that you want super rewards to send their conformation link to goes here, it does not have to be the same email you used in the offer.)
Question/Comments:Note: For offers requiring a credit card purchase, please include your order confirmation email.
______________________________________________________________________________________________________________________________________
Okay, now its time to give them your reason on why you should be rewarded, For example:
'I submitted my valid form for the Insurance Quote but I was never awarded. Here's my proof:
http://localhostr.com/file/Kb5du5E/insu
... qaure3.PNG"
Now the site i prefer to use to put my pics into a link for Super Rewards representatives to view is called
http://localhostr.com/
you can use it for yourself if you would like, its really simple, Just browse for you picture, then click upload, and copy the localhostr picture link and post it in your help ticket. You have to sign up to use it since beta is now over.
Or Just use
http://tinypic.com/?t=postupload
Or
http://imgur.com/
Both of these are good image hosting websites, take your pick of which you would like to use or find your own.
Now for step 3285625723653275268527 of your help ticket, they will reply back to your help ticket moments later and have sent a email to the email you provided. "
Awaiting Response
"
Just click back on the offer you just sent to customer service and do as follows:
"Super Rewards ... age: 4 minutes
Thank you for contacting us!
The advertiser has not yet confirmed the completion of "InsuranceSquare -Health".
Please copy and paste the entire offer confirmation email (INCLUDING the header) for your participation within the text box."
The Conformation Email is located inside the email, Obviously...
Should look like this
DO NOT REPLY TO THIS E-MAIL!
All requested information can be submitted via the following link:
http://www.superrewards.com/direct_supp ... 5359454643
Thank you for contacting us!
The advertiser has not yet confirmed the completion of "Play Airstrike Now Free!".
Now getting the header for those of you who use yahoo and don't know. The header is not the name of the email, the header is (what i call it) a box filled with random jambalaya. To find the header just simply right click the offer email inside your email Inbox and look down a bit, you will see it here
It will pull up a window with all the information of that email, just simply copy and paste it back into the super rewards help ticket and resend and your done. All you have to do now is just wait, and they should award you.
______________________________________________________________________________________________________________________________________
If your offer is sent to
Not Awarded
only thing you have to do is update your proof of completion to be awarded by customer service, for example.
I recently did a download offer where in my help ticket the only information that I provided was the link to my proof of my completion, which would be my snap shot of the downloaded program onto my windows system(
http://i.imgur.com/5CwbH.png
). The offer was sent to
[b

]Not Awarded

[/b]
, so I just simply went back into the help ticket and updated my information within the text box "Please view the following link from imgur.com for this offers proof of completion:
http://i.imgur.com/5CwbH.png
"
When I later checked my super rewards offer wall I saw that I was
Awarded By Customer Service
and it no longer said
Not Awarded
To put it simple make sure you have valid proof of completion for an offer like the email you receive from the advertiser of the offer or the end of the offer it self.
Follow this guide to doing offers if you have problems with them and one day you can have c's like this *w*
Got all of those yesterday(April 7th, 2012)
Do things right and you can do the lucky draw and get more golds and be all emo like me :3
Angst...Darkness...
http://tinyurl.com/TweezysOfferTutorial
I feel like 85% of my accessories were free

thats like 1/3 of my inventory
Motivational Free Crescents.
If this works for you like it does for me spread the word, thanks and...
GOOD LUCK!
If you're interested you can get even more Cs with PrizeRebel. I use PrizeRebel myself and I have gotten Cs doing their offers and their external offers and making a purchase of a UGC with the points I've earned. So if you want to extend the amount of Cs you can do even more offers than the GA2 homepage can provide.
Just sign up here:
http://www.prizerebel.com/index.php?r=4656755
And you're step closer to getting all the free accessories that you want!
More information on Prize Rebel!
A good friend of mine brought PrizeRebel to my attention back in 2012, just like everyone else who he first told about this I was very skeptical, a non believer, thinking it was just another BS website, oh me oh my was I totally wrong. It was very understandable that no one would believe you at first glance after telling them. I mean how could you possibly get a UGC, Amazon Gift Card, LOL card, steam card, ect. for free unless someone gave it to you. Well if you followed my offer tutorial then you already know how, through free offers. All it takes is a little dedication and patience.
http://forum.prizerebel.com/index.php/board,5.0.html
I've decided to emphasize on PrizeRebel mainly because I find that I'm lacking in good offers for GA2. Nowadays I have nothing but downloads that when I report they get sent to not award. Email submits that never work, Zip code submits that never work and paid offers. I'm just seriously lacking in good offers that are free that actually work. So I have been spending more time doing PrizeRebel offers. Now I'm not trying to convince you to stop doing offers with GA2 all together and move on to PrizeRebel. I wouldn't feel right and that wouldn't be fair to me and I'm not okay with taking away business with CS. Its because people actually do the free offers that we have offer events in the first place. What I'm trying to convince you to do is give PrizeRebel a shot if you're a dedicated offer user. I would also like to share a bit of proof with you.
This is my PrizeRebel account and my past prizes.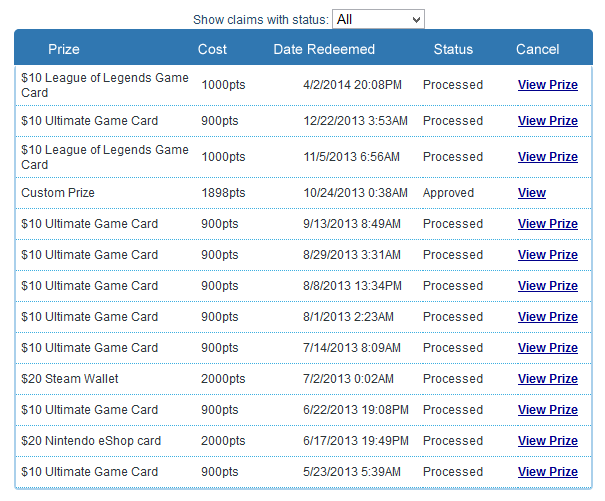 Now here are some of the things I wanted, but what are some of the things you may want? Example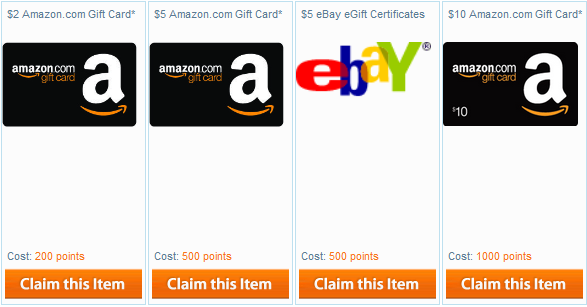 Now as you can see ive redeemed quite a few items since I first started. I even custom order Paper Mario The Thousand Year Door off of amazon(
http://gyazo.com/b7afd050e3ce730dedd825c4d831979d
) with PrizeRebel and got it exactly a week later(OFC You have to pay for shipping and the item itself with your points before anyone ask). I'm saving up now to probably get another league card, cause you know, gotta have those skins. But by now I'm sure you know what I'm getting at. It works, its free, doesn't cost you anything out of pocket besides your time, but then again time is money, and everyone likes money. Sign up here, have a nice day, ba bai.
http://www.prizerebel.com/index.php?r=4656755
*If you have any questions or comments please post them below and i will get back to you later*